20 Questions With.... Our Head of Operations, Alex Thompson
Sat Feb 2021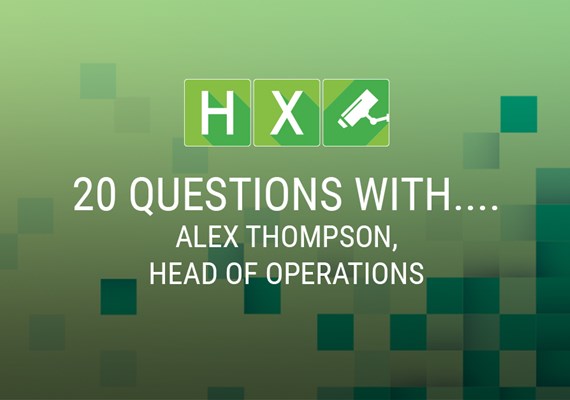 This week's 20 'get to know me' questions are with our Head of Operations, Alex Thompson.
Joining us in November last year, Alex had spent 20+ years in the hospitality sector and decided it was time for a change. His extensive managerial knowledge and experience will play an integral part in our growth, he's already made a positive impact on the business in the short months he has been with us. 
What's the best piece of professional advice you've ever received?
To always evolve!
What interests you the most about the parking industry?
The project management side and how each site is unique
Which of Your Personality Traits Has Been The Most Useful throughout your career?
Organisation and stubbornness
If your career so far Had A Theme Song, What Would It Be?
Smack My Bitch Up – The Prodigy
Who, if anyone, has been your biggest inspiration throughout your working life?
My dad
What was your dream job as a child?
Architect
What was your first job?
Retail assistant
What goal do you think humanity is not focused enough on achieving?
Zero starvation, everyone should have access to food and clean water 
What motivates you to work hard?
My daughter
What is your proudest accomplishment?
My daughter
What's your go-to karaoke song?
Wonderwall
The House Is On Fire, But Everyone Is Safely Out, The Pets Are Safely Out, And All Wallets/Cash Are Saved. If You Could Make One Last Dash To Get Something, What Would It Be?
My phone
What's The Most Interesting Thing You've Read Or Seen This recently?
That cats cannot taste sweet things!
If you could invite 3 famous people to a dinner party who would you choose?
Dwayne Johnson, Dan Bilzarian, Rita Ora
If you could go back in time, what era would you travel to?
1990's
What's the last series you watched that you would recommend to someone?
Mind Hunter
What three items would you take with you on a deserted island?
Phone, pregnancy pillow, toothbrush
If you were ruler of your own country what would be the first law you would introduce?
No one would go without food or water
Where's the next place on your travel bucket list and why?
Miami for the music conference
Have you got any superstitions?
Don't walk under signs
If our friendly team of experts can advise you or for more information on the services we provide, please get in touch with our sales team on 03330 066 316 or alternatively you can email sales@hx-pcn.com.
More information can also be found on our website: https://hx-pcn-com
Contacting us is easy...
If you have a question about our services or equipment, would like a free survey or simply want to hear more about the unique way we do things at HX, our team is here to help.