CLIENT REFERRAL SCHEME
Working with HX, you understand the benefits of a fair, ethical, and transparent parking company.  There is no better way of helping us to grow our nationwide partnerships than being recommended. 
That's why we support our referral scheme which offers you a £250 Amazon voucher for recommending HX to a colleague. 
If you want to help then simply email your name and recommended contact to sales@hx-pcn.com
If the below **terms of the referral are met, you will then receive your £250 Amazon Voucher.  This will be sent to you electronically or in the post if preferred.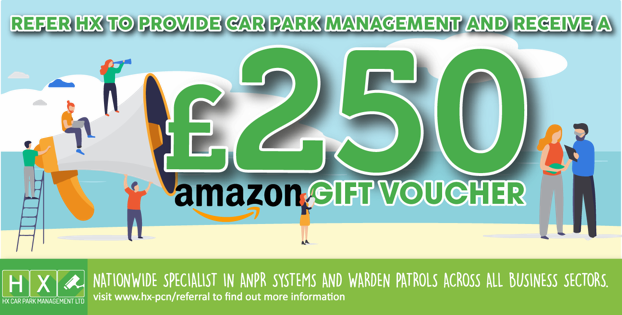 **Terms and Conditions
The site must commit to a minimum contract period of 12 months. 
The site must be an ANPR managed site only.
WHAT ARE YOU WAITING FOR?
For more information regarding our Client Referral Scheme, please get in touch via email sales@hx-pcn.com or alternatively you can call our friendly team of experts on 03330 066 316.
Contact us below for business enquiries ONLY*
*Any appeals or general enquiries will NOT be dealt with via this form and must go through the appropriate procedure. If you have a question about our services or equipment, would like a free survey or simply want to hear more about the unique way we do things at HX, our team is here to help.