20 Questions With.... Our Newly Appointed National Sales Manager, Stuart Smalley
Tue Jul 2021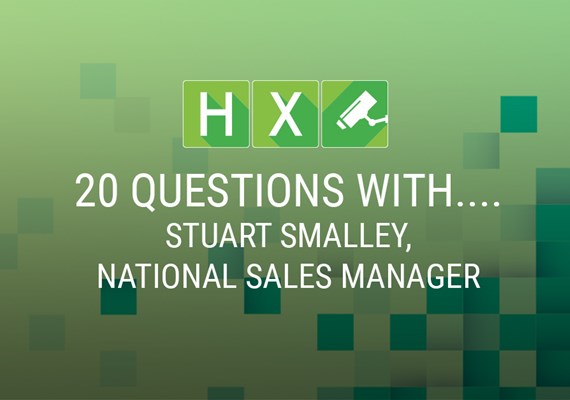 Joining us this week as HX Car Park Management's new National Sales Manager, Stuart has over 20 years of sales experience under his belt. His extensive sales knowledge and skills will play an integral part in our growth plan and we're looking forward to seeing what he will bring to our ever-growing team.
1. What's the best piece of professional advice you've ever received?
Always be honest and only recommend the product that YOU would buy.
2. What interests you the most about the parking industry?
The variety of both public and private customers and their requirements.
3. Which of your personality traits has been the most useful throughout your career?
Honesty and Communication.  
4. If your career so far had a theme song, what would it be?
Josh Groban - you raise me up.
5. Who, if anyone, has been your biggest inspiration throughout your working life?
My Farther, despite the adversity he always tried.
6. What was your dream job as a child?
A formula one driver.
7. What was your first job?
Self Employed Milkman (mornings) Self Employed Car Valeter (afternoons and Evenings).
8. What goal do you think humanity is not focused enough on achieving?
Retaining this planet's resources.
9. What motivates you to work hard?
Money and appreciation.
10. What is your proudest accomplishment?
Signing a "McDonald's" supplier to a 5-year profitable agreement.
11. What's your go-to karaoke song?
Robbie Williams - Angels.
12. The house is on fire, but everyone is safely out, the pets are safely out, and all wallets/cash are saved. If you could make one last dash to get something, what would it be?
Photograph albums – hard copies and irreplaceable.
13. What's the most interesting thing you've read or seen recently?
I read an article this week about Sir James Hunt, the racing driver.
14. If you could invite 3 famous people to a dinner party who would you choose?
Robin Williams for the comedy, Barack Obama for general Political and Economic information and Nigella Lawson for other reasons.
15. If you could go back in time, what era would you travel to?
1928 as this is when the most interesting things started to be talked about and developed.
16. What's the last series you watched that you would recommend to someone?
"The Discovery of Witches" it has intrigue, deception, tension and lots of plot twists.
17. What three items would you take with you on a deserted island?
Fire Stick (for starting fires not watching programs) a huge Tarpaulin (for protection and shelter) and a Machete.
18. If you were ruler of your own country what would be the first law you would introduce?
Better overall Education for all (you do not leave until you reach a set level).
19. Where's the next place on your travel bucket list and why?
Corfu as its reasonably close and we have visited all the other Greek Islands, then the Philippines.
20. Have you got any superstitions?
No, not really but I do say "knock on wood" a lot.
If our friendly team of experts can advise you or for more information on the services we provide, please get in touch with our sales team on 03330 066 316 or alternatively you can email sales@hx-pcn.com.
More information can also be found on our website: https://hx-pcn-com
Contacting us is easy...
If you have a question about our services or equipment, would like a free survey or simply want to hear more about the unique way we do things at HX, our team is here to help.