Benefits of Cashless Parking
Wed Jul 2021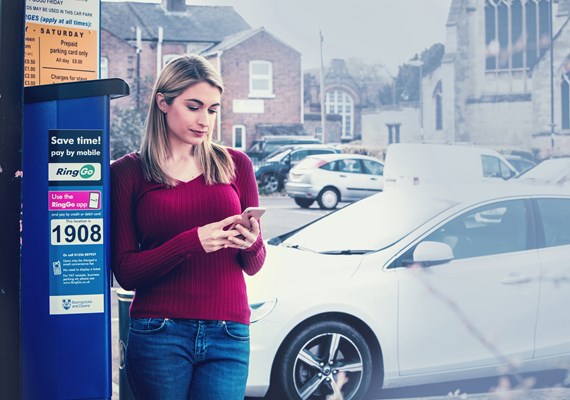 So, why are so many motorists now paying to park by phone?
Well there's lots of reasons, but here's just a few. Paying to park by phone means:
there's no need to queue at or touch machines.
no need to hoard coins.
you can save time (paying via RingGo takes as little as 15 seconds).
there's no need to trek to and from the machine with a ticket for the windscreen.
you're helping the environment (by reducing paper and contributing to reduced journeys to collect, process and bank the coins).
you no longer have to worry about losing your ticket and incurring a fine.
you can pay for your parking on the way to where you're going or from the comfort of your car (avoiding the dark, rain, or cold).
and you get handy reminders alerting you when your parking is running out, so you can top up your stay or return to the car, whichever you prefer.
RingGo Cashless Parking Solution
During the COVID pandemic there's been a massive increase in use of phone parking and it's persuaded a lot of motorists to make the shift.  With health awareness key, HX Car Park Management, along with our phone parking partner, RingGo, are playing a part in increasing safety for motorists.
Paying to park with cash can be pretty stressful. It's quite a hassle ensuring you always have sufficient change to pay. With phone parking, you just quickly park and pay - there's no need to rake around for that last elusive coin. 
RingGo App
Once you've downloaded the RingGo app and registered a few details, it takes about 15 seconds to pay by mobile phone. Simply choose the registration of the vehicle you're parking, enter the location code shown on the machine or nearby signs, and select the time you want to stay.  Confirm your payment and you're done.
As highlighted above, going cashless means there's no need for a paper ticket in your windscreen. So, less rubbish in our cars and car parks and we're all helping towards a cleaner, greener future. 
Finally, the optional RingGo text alerts really help – confirming your session and telling you when your parking is running out. You don't have to dash back to the car though. Simply use the app to extend your parking wherever you are. If you prefer to use the RingGo phone line, just call the same number and you can extend that way too. 
Our partner service, RingGo, is used by 18 million UK motorists and offered in over 450 towns and cities nationwide. So, your life can be easier, not just in HX Car Park Management car parks, but across the whole UK too.
For more information on how cashless parking can benefit your car park please contact our team of friendly experts on 03330 066 316, or alternatively you can email sale@hx-pcn.com
Contacting us is easy...
If you have a question about our services or equipment, would like a free survey or simply want to hear more about the unique way we do things at HX, our team is here to help.