HX Car Park Management Year in Review
Wed Dec 2020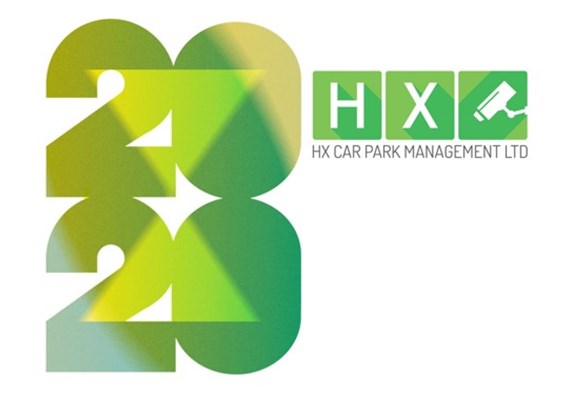 Its that time of year again when we, at HX Car Park Management, reflect on the months past.
From a worldwide pandemic to a global movement for equality, the year 2020 has certainly experienced its fair share of world-shifting events. As we close in on 2021, we've had a little time to look back on some of the events of this year. Particularly those within HX Car Park Management and the parking industry as a whole.
JANUARY 2020 – HX Bring the Installation Process In-House
At the beginning of the year, we welcomed Chris M as our Operations Support to begin creating the building blocks for our in-house installations team. To have this in-house has been a long-term goal for us at HX. Chris has played an integral role in our installations this year and will most certainly play a part in helping create opportunities for the company throughout 2021.
FEBRUARY 2020 – HX Car Park Management Sponsors Preston North End Match
As a dedicated Preston supporter, our Managing Director Kenny Marland often hosts a team outing to sponsor one of their home matches. It's a great marketing opportunity and a chance to reward some of our staff with a corporate day out. On this day in February, A late second half header from Shaun Hutchinson gave Millwall the points on a wet and windy afternoon at Deepdale. Despite the loss, our selected team members had a brilliant day meeting the squad and look forward to representing the company again in 2021 when fans are allowed back in stadiums.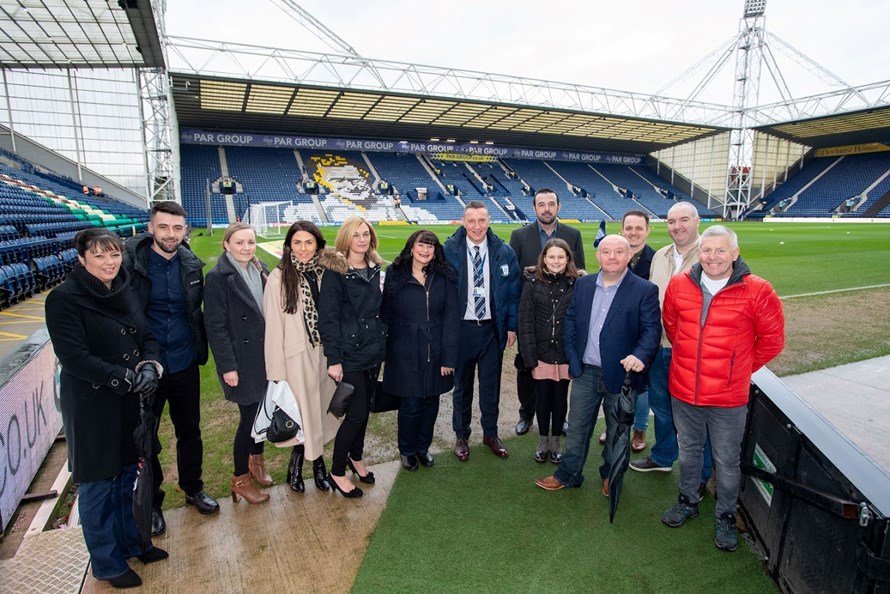 MARCH 2020 –The Government Announce Nationwide Lockdown as the WHO Declare COVID-19 a Pandemic
More than 10 months have passed since the world halted to what felt like a complete standstill. Amongst all the uncertainty and fear we were forced to shut up shop and set up our offices at home. During this unusual time, our Managing Director made the decision to deactivate our ANPR cameras nationwide, along with pausing all warden patrols. Most of the office team continued to work from home and adapted extremely well, meaning months later we could open up the office again as a stronger company.
APRIL 2020 – HX Car Park Management Receive DVLA Green Audit
In early April we were pleased to announce that we had been awarded a Green Pass for our annual DVLA Audit. As a customer of the DVLA, we are audited on the way we are collecting and using vehicle keeper data. 75 PCN's are chosen, at random from our system, and the DVLA will cross-examine each one individually. Upon inspection of those PCN's, we received the highest audit pass from the DVLA.
JUNE 2020 – Revamp and Relaunch of HX Website
One positive for HX Car Park Management during lockdown was the opportunity to revamp, update and relaunch our company website. We wanted a fresh new look and an easier to navigate site that would benefit customers and clients alike. This was an ongoing project from the beginning of the lockdown and with some spare time on our hands managed to relaunch before the offices reopened.
JULY 2020 – HX Head Office Re-Opens
It felt like "friends reunited" with the welcome return of almost all our staff to the office in July. We were soon back up to full throttle at our West Yorkshire headquarters in a safe and structured manner, with all government-advised measures in place. It may not have been the same as before, speaking to colleagues through plastic screens and bottle of hand sanitiser everywhere you turned, but we were happy to be back!
SEPTEMBER 2020 – HX Sponsor Grassroots Football
As part of our Corporate Social Responsibility, HX has pledged to sponsor a grassroots football team in each county we hold a contract and work within, showing that we are fully committed to investing directly in the community. The restart of the 20/21 season saw HX Car Park Management sponsor Lancon JFC, a junior football club based in Lancashire. Not only is this a chance to get our name out there but we also support the physical and mental health benefits that sport can bring to children. Football helps to develop key life skills such as teamwork, discipline, work ethic, and camaraderie; just a few of the essential traits we value in our employees.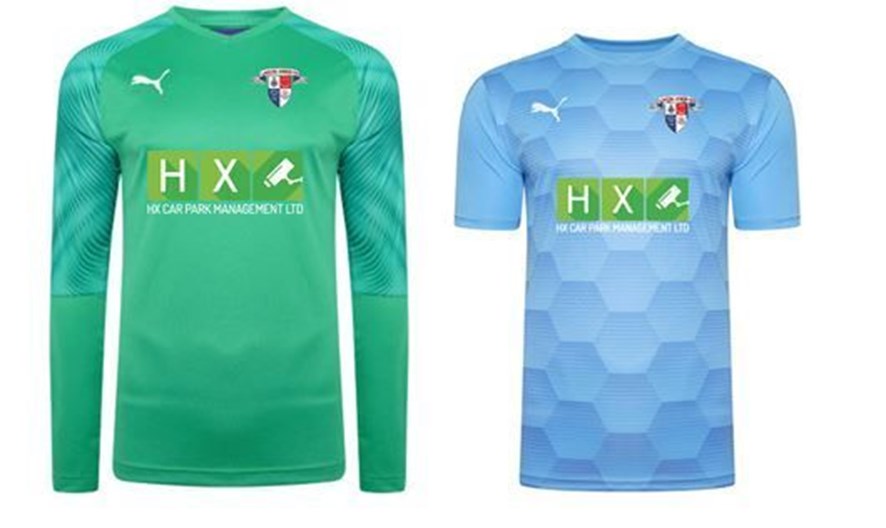 OCTOBER 2020 – Parking Code Enforcement Framework Consultation Closes
In August this year, the government began consulting on the Code Enforcement Framework which will soon lead to an Independent Code of Practice for private parking companies. The consultation called for consumers, parking operators and landowners to share their views on how the government can improve the regulation of the private parking industry. With help and guidance from the IPC (International Parking Community) we participated fully and responded to the relevant information. Since the closure of this consultation on October 12th, we await the outcome and continue to prepare for any industry changes that may transpire.
NOVEMBER 2020 – HX Welcomes Susan Meadwell to Solidify Sustainable Practice Plans
Susan recently joined us as our Head of Sustainability, we welcomed her 20+ years of experience in sustainable development and First Class (Hons) degree in Environmental Science. As the need for sustainable development grows, we saw it crucial to bring Susan on board to help shape our green goals as a business. As a keen advocate of incorporating sustainability into our daily lives she aims to ensure the work we produce is directly fit for purpose and contributes responsibly to the global sustainability issues at hand.
DECEMBER 2020 – HX Launch Sustainability Calculator
Being able to offer our clients sustainable and environmentally friendly parking solutions is key to our business plan. Over the last few years, we have developed our solar, wind, and hybrid systems and, finalised the product to maintain the required level of energy output to provide all of our eco-powered sites with 100% uptime. Achieving this was a breakthrough for us as a company and a positive for reliable, energy-efficient ANPR systems available within the UK. We now have several eco-powered sites across England and Scotland.
HX wanted to go one step further and help clients to understand their environmental and financial impact when choosing to use our sustainable options. In November this year we began work on our Sustainability Calculator which we later launched earlier this month. This easy to use tool calculates the difference clients would make with regards to Carbon Dioxide production and the financial savings when choosing to adopt our eco systems. All we need is the number of sites clients have and the number of cameras used per each site! Have a look for yourself here https://hx-pcn.com/anpr-sustainability-calculator/ its free to use and gives instant results.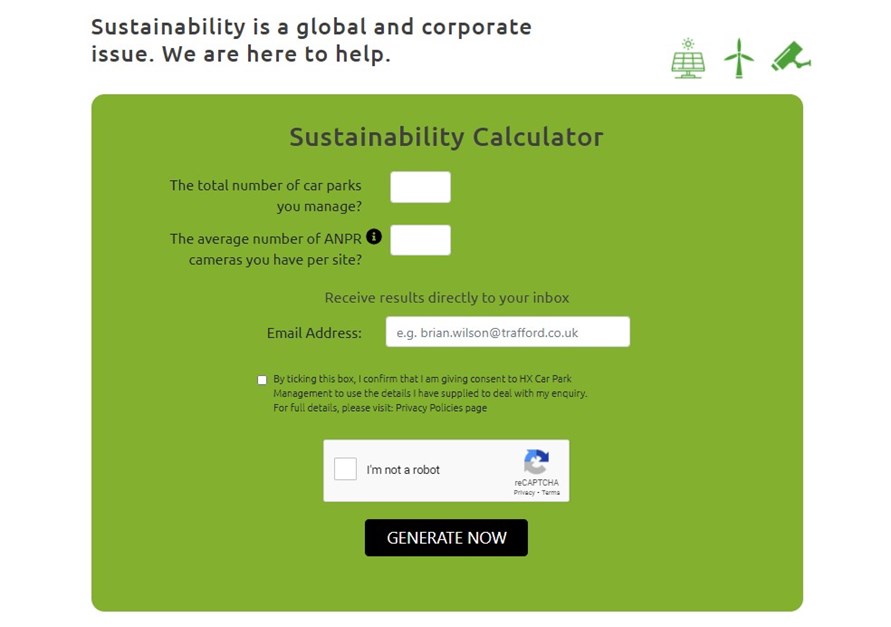 The production and launch of the calculator is something we're really proud of and we're really looking forward to helping present and future clients move closer towards their own sustainability business goals in 2021!
A Message from our Managing Director – Kenny Marland
An eventful and difficult year is closing and an end to these uncertain times can be spotted somewhere in the distance.
HX has been through many changes this year, some we adapted to extremely well and others have been more difficult. I want to firstly thank all of my staff for the hard work they have put in over 2020, and for continuing to produce the great work they do throughout this difficult year.  Our head office team has grown over the latter months of 2020 and we now have a solid and experienced unit to accelerate our business plan into 2021.
I would also like to take a moment to thank all of our suppliers and clients for working closely with us throughout the year to provide the best service possible, despite the obstacles we have all faced.
As we welcome in the new year, it is important to recalibrate ourselves for the changing times ahead and to move forward together as a team. I believe successful progress occurs when core beliefs and behaviors align. I also believe the enthusiasm and determination shown at HX this year can together help us overcome whatever 2021 has in store for us.
As we embark on delivering an ambitious new year plan, I would like to extend my best wishes to all. From my family to yours, I wish you a happy and prosperous New Year.
Let's make 2021 the best year yet!
Contacting us is easy...
If you have a question about our services or equipment, would like a free survey or simply want to hear more about the unique way we do things at HX, our team is here to help.