Retail News: Can Car Park Management Increase Festive Footfall?
Mon Oct 2018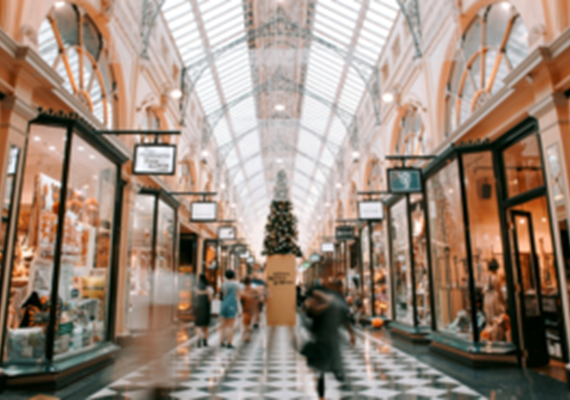 First the shops and soon the TV adverts. One thing is for certain: it's beginning to look a lot like Christmas. At this time of year, retailers are inevitably beginning to focus on their Christmas targets. But is there more that UK retailers could be doing to meet these targets? At HX Car Park Management, we believe that there is.
When retailers consider how they're going to meet their Christmas target, attention is often focused on footfall. First, however, let's take it back a step and consider what happens before a customer even sets foot in a store. Ask yourself: how are they arriving?
When Christmas shopping, the majority of people drive. This is mainly because they end up laden with bags upon bags of shopping, which they don't want to then carry home or take on public transport. Because of this, a customer's first experience when arriving to shop with you, before they get anyway near entering a store, is parking.
Retailers often overlook car park management when considering the factors that affect their footfall, but it is nonetheless hugely important in meeting targets and encouraging the public through your doors. An efficiently managed car park will ensure maximum footfall, as well as keeping customers happy and thus more likely to spend.
The Importance of a Manned Car Park Alongside ANPR
ANPR can ensure that people only stay for the welcomed duration or that they pay for their parking, but ANPR cameras alone cannot make the most efficient use of your car park. ANPR will not register the abuse of disabled or parent and child bays, nor will it prevent anyone from parking in a "no stopping" area, or over multiple spaces. For these things to happen, you need your car park to be manned.
Car park wardens can ensure that your car park is operating at maximum capacity and, of course, more vehicles means higher footfall. Wardens can also act as marshals at peak times, keeping the traffic moving where things would otherwise descend into chaos.
Christmas shopping can be a very stressful experience at times and so removing one large source of stress, the failed pursuit of a parking space, will lead to happier customers who are more willing to spend, as well as increased footfall.
In a time where the popularity of brick and mortar stores is hotly debated, it is important to consider every factor that could affect your festive footfall and car park management should, without a doubt, be included in this.
Pre-Christmas Installations Available with HX Car Park Management
It is not too late to get your car park management sorted in time for Christmas. HX Car Park Management is able to install ANPR cameras and supply wardens to manage your land and ensure that everything runs smoothly and that your car park operates at maximum capacity.
To find out more about how effective car park management can increase your footfall this Christmas, contact HX Car Park Management today on 03330 066 316, or email sales@hx-pcn.com.
Alternatively, you can discover more on our website.
Contacting us is easy...
If you have a question about our services or equipment, would like a free survey or simply want to hear more about the unique way we do things at HX, our team is here to help.