Your staff, Our Company – Empower your staff to keep in total control of their land/car park. Free of Charge set up, Includes Signs and App. No matter how big or small your land is, Our self issue kit will get you the results you require.
This simple and effective method is available by using MNPR (Manual Number Place Recognition) you no longer have to write a ticket out, we will get the Registered Keepers details from the DVLA and send a PCN in the post. This totally reduces any on site confrontation.
We will give your staff a HX Car Park Management Ltd App, they then input the offending vehicle details along with photographs that we need for evidence. Once submitted, The data is transferred instantly to our back office system. From here on in our dedicated office staff will manage the PCN fully.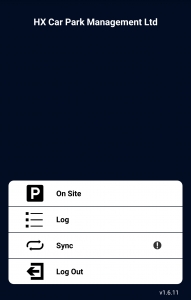 Here is how our app looks. Apple and Android compatible.
All PCN'S issued by you are checked by our office staff to ensure the correct evidence has been taken, and the correct information has been inputted. Full training is given to every new client at no cost. If you would prefer to write a PCN out and affix to the windscreen of the offending vehicle,that is also fine by us. The option is your choice.
Once we have received payment from the PCN you have issued, we will pay you a compensatory payment of £10.00 per parking charge notice. This will be paid to you at the end of every month. Along with a detailed report, where you can see all your issued tickets and see what status they are currently at. Paid, Appeals, DVLA Requested, Etc.
If you would like further information please contact us via the link here – We will respond within 1 working day.
Simple, Effective and Control. Everything you desire from managing your own land. 
Many Thanks
Sales Team
HX Car Park Management Ltd.